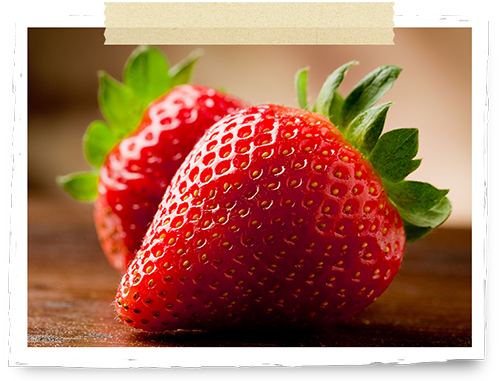 Lovely sweet
Who doesn't love strawberries? There are many different strawberry varieties. Depending on the type, strawberries vary in colour and shape from bright red to burgundy, and from conical to oval. Strawberries have a sweet, full flavour and can be perfectly combined with other soft fruit such as blueberries, blackberries, raspberries and red currants.
---
History
The strawberries as we now know them are about 200 years old. Cross-breeding hard strawberries from California with soft strawberries from Europe led to today's firm varieties that can be transported over large distances.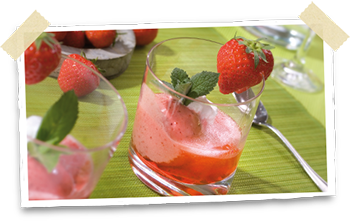 Flavour and use
Strawberries are deliciously sweet and juicy and taste wonderful in all kinds of dishes. You will of course be familiar with strawberry jam, ice cream, yoghurt, cakes and smoothies.

But how about risotto with strawberries, strawberry soup with ginger mascarpone or home-made strawberry liqueur?
What to look out for
Strawberries must have an even, shiny red colour. Strawberries taste best at room temperature. Don't remove the stems until after you have rinsed your strawberries, because otherwise they will absorb water. Strawberries can also be deep-frozen, so that you can enjoy them all the year round without any loss of flavour or vitamins. But if you prefer to eat them fresh, that's no problem: strawberries are available almost all the year round nowadays.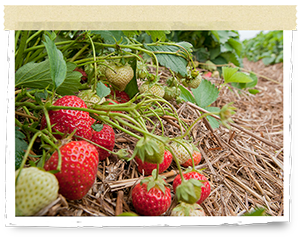 Healthy
Strawberries are full of fibre, vitamin C and folate (vitamin B11), building stones for a good health. For this reason they are also referred to as 'superfruit'. In spite of being deliciously sweet, strawberries contain only 36 calories per 100 grams. So don't feel guilty if you fancy a second portion!